WELCOME TO THE PHOENIX AIRPORT LO-LO'S
Flyin' somewhere? Stop in at Lo-Lo's Chicken & Waffles at the Phoenix Sky Harbor International Airport! Located in the B Wing of Terminal 4 (pre-security), Lo-Lo's is the perfect treat before or after your flight. Fuel up on our famous chicken & waffles and all your homemade soul food favorites!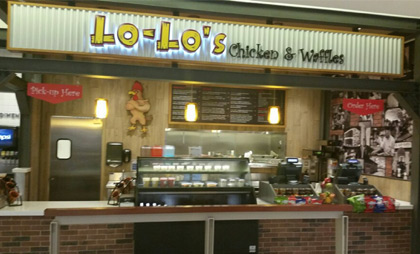 Lo-Lo's Phoenix Airport
Lo-Lo's Chicken & Waffles
Lo-Lo's Phoenix Airport
LARRY WHITE, FOUNDER
Meet the man, the legend, Larry "Lo-Lo" White, founder of Lo-Lo's Chicken & Waffles. An Arizona native, Larry has been in the soul food biz since he could walk and talk. Each of the delicious recipes you enjoy at Lo-Lo's came from Larry himself. The next time you're here, ask for him by name – Larry loves nothing more than interacting with his guests. It's all a part of the Lo-Lo's soul food experience!
TESTIMONIALS
People love Lo-Lo's and we love it when they tell us all about i! This is local Lo-Lo's love…
"THE PLACE TO GO...
Excellant service, the food is out of this world. This is the place to go when you want to fill like your at home with the best home cooked meal.
Teresa G.